fotogalerie
Hviezdy na lede - TV show
A family TV show of JOJ television was broadcast during September to December in 2006. Based on British Dancing on Ice there were fourteen dancing couples featuring Slovakian celebrities and professional skaters. Jindřich Šimek was a scriptwriter and artistic director of a series of fourteen live broadcasts.
Intershow productions provided a complex of:
• casting and cast of the figure skaters
• choreography more than 100 acts (solos and groups)
• design and costumes
• training and choreography of participants
This family show became the most watched show on TV JOJ in 2006.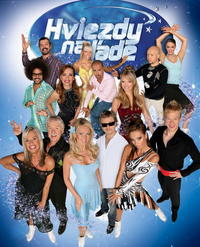 ---